QC 2.0 3.0 Adaptive Fast Charging Chargers
Author:Ema Cai
Source:www.appacs.com
Release on:2016-10-15
Recently, some customers are looking for fast charging "quick charge" chargers, the models with "adaptive charging". There are two adaptive fast charging chargers for your review.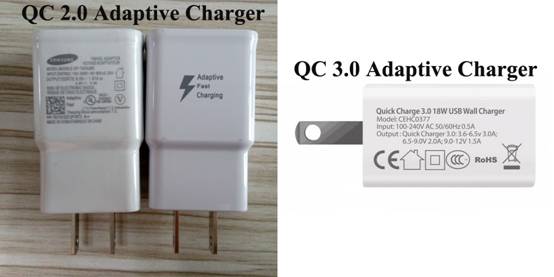 The first product is surely not new to you: Samsung adaptive fast charging charger. You can easily find it on electronics market, almost every shop. The second one is our newly released QC 3.0 wall charger. The adaptive outputs of them are as below:
1. QC 2.0 charger: 9.0V 1.67A; 5.0V 2.0A
2. QC 3.0 charger: 3.6-6.5V 3.0A; 6.5-9V 2.0A; 9.0-12V 1.5A
In the compatibility aspect, you are much more familiar with the first Samsung QC 2.0 wall charger than ours, because our charger is new to you. Our charger supports all devices that adopt Qualcomm Quick Charge 3.0 technology. Our charger has been tested through Samsung Galaxy S6 and it works well. About other models of Samsung, our engineers cannot quite be sure about the compatibility, because global Samsung mobile phones' standards are different.
For customers from each country, we can offer free sample to test the compatibility on Android, Apple products and other devices and you just need to pay the shipping cost to your country.
APPACS is China home charger factory, except for QC 3.0 charger, we also offer charger usb for wall outlet, 2 port micro usb wall charger, 5 port charge station. If you want to know more information about our products, please contact us freely:
Ema Cai
APPACS ELECTRONIC CO., LIMITED
Rm9218, Yikang Business Bldg., Huarong Road, Dalang, Longhua New Dist., Shenzhen, Guangdong, China
Tel/Fax: 0086-755-22957482
Email: sales07@szappacs.com
Skype: appacs8
Phone/ What's app/ Wechat: 0086-18664958305